Overview
"Hécate (Hécate, maîtresse de la nuit)" is a 1982 French–Swiss drama film directed by Daniel Schmid.
It is based on the novel "Hecate and Her Dogs (Hécate et ses chiens)" (1954) by Paul Morand.
It depicts the obsessive love of a French diplomat, who is fascinated with a married woman in North Africa in the 1930s, with the motif of the worship of Hecate, a goddess in ancient Greek Mythology.
105 minutes.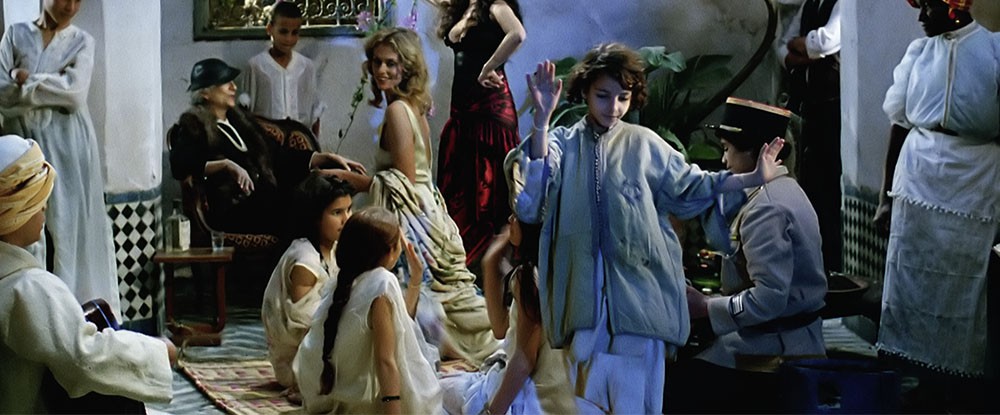 Plot
In Bern, Switzerland in 1942 during World War II, French diplomat Julien Rochelle (Bernard Giraudeau) attends a party held by the French Embassy, and recalls a woman he once loved.
In 1936 before World War II, Julien takes a post of a consular attache in Fez, Morocco under the colonial rule of France, and he starts working under the French consul Vaudable (Jean Bouise).
One night, Julien gets to know a mystery woman named Clothilde de Watteville (Lauren Hutton) at a party.
Julien becomes intimate with Clothilde. They enjoy eating meals and riding horses together. And then, they come to have a sexual relationship.
Rumors are that Clothilde is an American, and her husband Le colonel de Watteville is on a mission in Siberia, but she never speaks of herself at all.
Julien is obsessed with the magic of Clothilde, who seems like his ideal woman, and he cannot concentrate on his work. However, on the other hand, he becomes increasingly frustrated with her because she refuses to reveal her secret, and he agonizes over his inability to make her his own.
When Julien eats with Clothilde in a restaurant, she implies that she has a sexual relationship with a local boy named Ibrahim. Julien is outraged by jealousy. Clothilde says to him that she will show her secret, and she takes him to a brothel in which they make boys and girls prostitute themselves.
Clothilde disappears from Julien's sight. Julien wanders about the town and the desert looking for her.
Julien finds Clothilde taking a bath at her home. He presses her to tell him who she is. She says that she is the woman he wanted.
Julien keeps chasing Clothilde, but she ignores him. Being consumed by fury, Julien rapes Ibrahim at Clothilde's home.
Julien is shunted off to Siberia because of his sexual assault of the boy. In Siberia, he meets Clothilde's husband Le colonel de Watteville, and he finds Watteville is also a man who was hurt by the love for Clothilde, like him.
In Bern in 1942, Julien snaps out of his recollection, and he meets Clothilde, who looks exactly as she did, again at the party venue.
Commentary
"Hécate" is an aesthetic romance film that depicts a dreamlike experience of a man who chases a phantom of his ideal woman, who is unreachable forever because she doesn't exist in reality.
The film is similar in theme and setting to "L'Immortelle" (1963) directed by Alain Robbe-Grillet and "India Song" (1975) directed by Marguerite Duras.
The film is characterized by its fascinating sensuality and intoxicating visual beauty.
The scene in which Julien embraces Clothilde from behind on the balcony with the orchestral theme of Viennese waltz is impressive.
The film was entered into the 33rd Berlin International Film Festival.