Overview
"The Bitter Tears of Petra von Kant (Die bitteren Tränen der Petra von Kant)" is a 1972 West German drama film that depicts a love and hate relationship between three women: a fashion designer, her assistant, and a wannabe model. The cast is all women. Written and directed by Rainer Werner Fassbinder. It was a film adaptation of his own five-act play of the same name (1971). 124 minutes.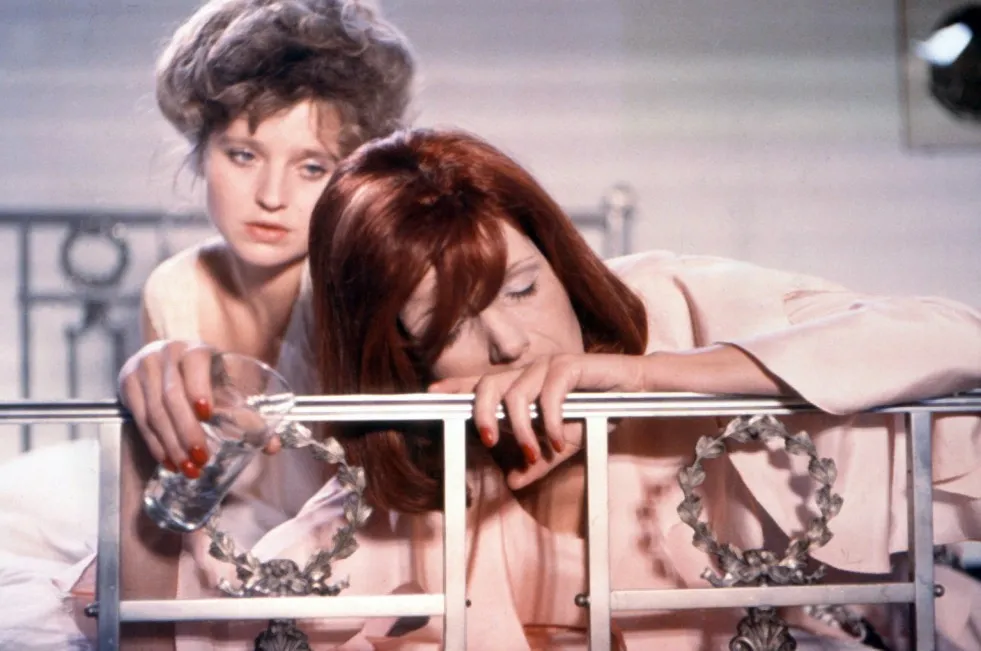 Plot
Prominent fashion designer Petra von Kant (Margit Carstensen) lives with her assistant Marlene (Irm Hermann) in an apartment in Bremen. Petra treats Marlene like a slave, but Marlene dutifully obeys Petra: they are sadomasochistically codependent on each other.
A huge reproduction of "Midas and Bacchus" (1629–30) by French painter of classicism Nicolas Poussin occupies one wall of Petra's room.
Petra has a daughter named Gabriele (Gaby) (Eva Mattes) with her first husband Pierre, who died in a car accident. Gaby is a boarding school student.
Petra's friend Sidonie (Katrin Schaake) comes to visit Petra's home to see Petra for the first time in three years. Petra tells Sidonie that she divorced her second husband Frank because he tried to keep her under his control, and then she became a man-hater.
Sidonie introduces her friend Karin Thimm (Hanna Schygulla) to Petra. Karin is a 23-year-old woman who wants to become a model. She had lived in Australia with her husband, and she has returned to Germany for the first time in five years. Petra falls in love with Karin.
Petra puts Karin up in her home and helps Karin become a model because she wants to make Karin her own.
Karin starts working as a model with the help of Petra, but Karin disfavors Petra. Petra is shocked that Karin has a sexual relationship with a man.
One day, Karin's husband Freddy telephones Karin to tell he is staying in Zurich. Karin leaves Petra's home to go back with her husband.
Losing Karin, Petra is driven to the depths of despair. She keeps waiting for a phone call from Karin, drinking heavily.
On Petra's 35th birthday, her daughter Gaby, her friend Sidonie and her mother Valerie (Gisela Fackeldey) come to Petra's home, but Petra misdirects her anger at them, and she curses at them using abusive language.
That night, Petra realizes that she was wrong to possess Karin rather than love her. Petra apologizes to Marlene, and she says she wants to live with Marlene as her partner in the future. After hearing that, Marlene packs her things in her suitcase and leaves Petra.
Commentary
"The Bitter Tears of Petra von Kant" is a psychological drama film produced under the strong influence of the melodrama films directed by Douglas Sirk. 
The title of the film is derived from the American film "The Bitter Tea of General Yen" (1933) directed by Frank Capra.
The film was produced in a form similar to chamber play (Kammerspiel). The scenes of the film are almost totally restricted to Petra's room. Each scene is composed mostly of long-take shots with a few cuts.
The gorgeous and decadent images, featuring artificial lighting, decorative costumes and artistic color design, are impressive.
In the film, the sadistic and narcissistic personality of Petra von Kant is morbidly exaggerated, as shown by the subtitle of the original German title, "Ein Krankheitsfall" (A Case History). Therefore, the film seems like a work that caricatured the tragedy of a woman who tried to be an "elective lesbian" by escaping from the domination of male-centered society, but couldn't escape from it. However, the universality of the themes, such as solitude, domination and dependence in relationships, makes it a film that emotionally appeals to a wide group of people.
The film was entered into the competition of the 22nd Berlin International Film Festival.
In the 1972 German Film Award, it won three awards: Best Actress (Margit Carstensen), Best Supporting Actress (Eva Mattes), and Best Cinematography (Michael Ballhaus).
The film "Peter von Kant" (2022) directed by François Ozon is an adaptation of Fassbinder's play "The Bitter Tears of Petra von Kant".