Overview
"The Shawshank Redemption" is a 1994 American drama film written and directed by Frank Darabont.
The screenplay is an adaptation of the novella "Rita Hayworth and Shawshank Redemption" (1982) by Stephen King.
It tells the story of a banker who was jailed on a false charge, but survives at a corrupt prison without giving up hope. 142 minutes.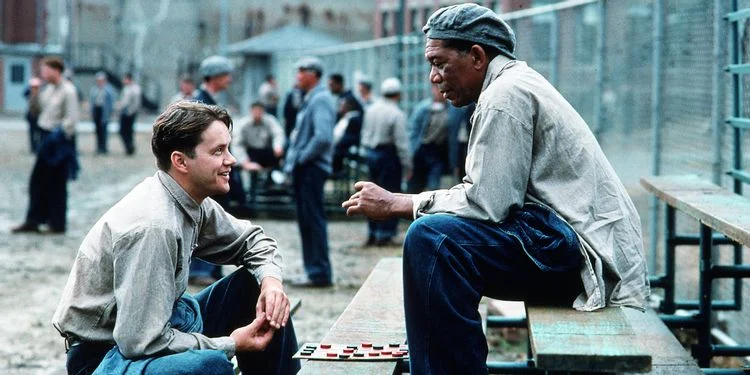 Plot
In 1947 Portland, Maine, a young and successful banker who had served as the vice-president of a bank, Andrew "Andy" Dufresne (Tim Robbins) is charged with shooting his wife and her lover to death. Though he insists on his innocence, he is sentenced to life imprisonment, and is sent to the Shawshank State Penitentiary in Maine.
Within the prison, the prisoners have been exposed to violence by the prison guards and some prisoners on a day-to-day basis.
Another lifer who has served many years in prison, Ellis Boyd "Red" Redding (Morgan Freeman) is known as a "smuggler" who procures all kinds of goods. Andy procures a rock hammer through Red. After that, Andy and Red deepen their friendship.
In 1949, Andy uses his accounting knowledge to assist the chief of the prison officers, Byron Hadley (Clancy Brown) in his inheritance, and he becomes recognized as a financial consultant by the prison guards.
The warden of Shawshank Penitentiary Samuel Norton (Bob Gunton) assigns Andy to work as a librarian. Norton makes Andy work as an accountant, and he also makes Andy conceal his illicit enrichment.
Andy sends the state legislature letters asking for aid budgets for the library many times. As a result, he develops the library into a valuable educational facility.
In 1965, Andy gets information that testifies to his innocence, and he offers Norton a request for a retrial of his case. However, Norton plays a dirty trick to prevent Andy from requesting a retrial because he wants to keep Andy in prison.
In 1966, Andy carries out his plan that he had prepared in the past 19 years.
Commentary
Though the film was a box-office bomb when it was released, it was highly valued by critics. In the U.S., the film became popular after its success in the rental video market in 1995 and its broadcast on the cable TV network TNT since 1997.